Nichion, Inc. is one of Japan's largest and most successful music publishing companies.
Established in 1963, Nichion is a subsidiary company of TBS (Tokyo Broadcasting System), one of Japan's leading television networks.
As a music publisher, Nichion administers or controls both Domestic and International copyrights, with a domestic catalogue of nearly 40,000 titles and an International catalogue of over one million songs.
Among International catalogues, Nichion represents:
· peermusic
· Bourne
· Wixen Music Publishing
· The SAIFAM Group
· Reach Music Publishing
In addition to the above, Nichion represents over 300 other International catalogues and a significant number of "sound library" catalogues.
As one of Japan's premier music publishing companies, Nichion is actively engaged in all areas of the music publishing business including:
Copyright acquisition,administration and development
Song pitching and promotion for television,films, games and commercials
New artist and songwriter development
Nichion also actively solicits material from music publishing companies, songwriters and artists that are seeking a music-publishing partner in Japan.
Contact Information
International Copyright, Royalty & Licensing
Sumitomo Fudosan Shin-Akasaka Bldg.7F 4-2-6 Akasaka,Minato-ku,Tokyo
107-8380 Japan
info_inter@nichion.co.jp
TEL:81-3-5562-3888
FAX:81-3-5562-3811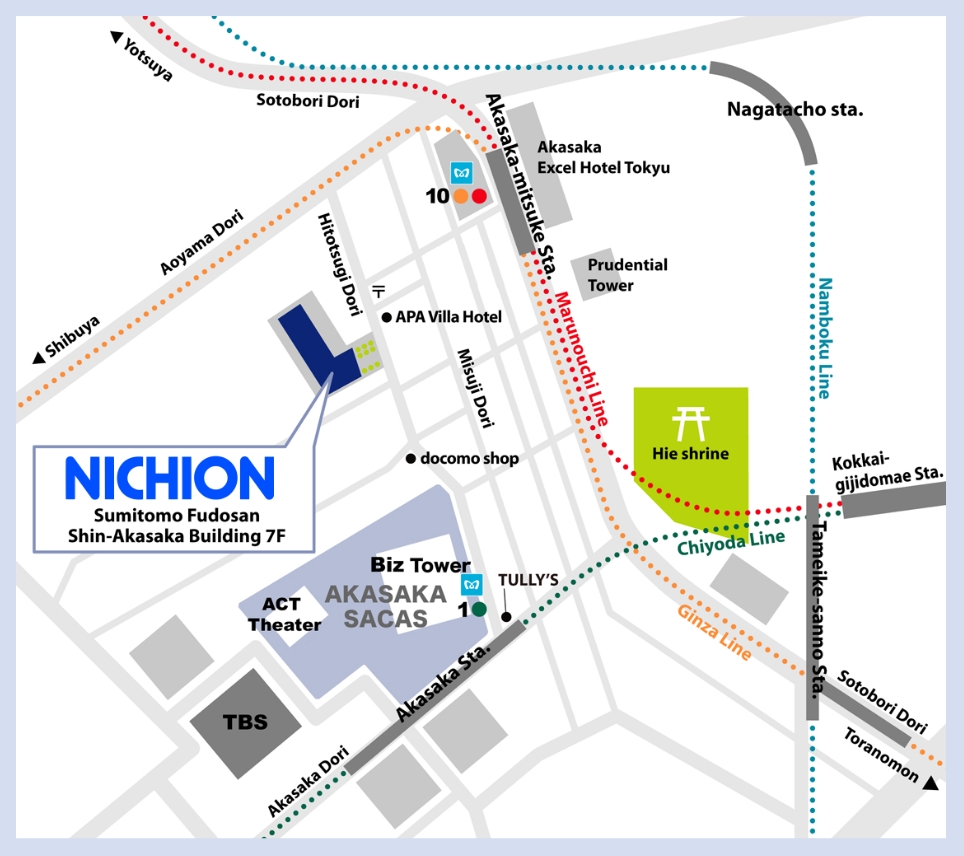 ● ● 2 minutes walk from Akasaka-mitsuke Station,
Ginza Line and Marunouchi Line.
● ● 5 minutes walk from Akasaka Station,Chiyoda Line.